I have a lot to cover in this post. To start off though, I was cruising YouTube when I came across this:
Speaking of "real men", the boyfriend and I are doing well,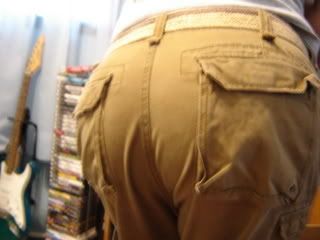 I didn't necessarily mean to take the picture, but I figured it's comical and I'd share. This will be a picture heavy post as I have quite a bit to share with you. First and foremost, Shelia sent me a wonderful package of yarns and a book. (My ebay needles snuck in to these photo, for fun)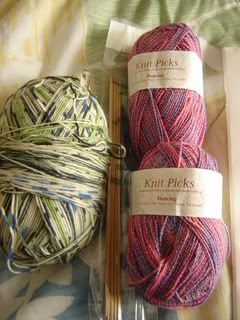 Of the yarn she sent me I casted on with my brand new, recently won ebay-auction bamboo double pointed needles.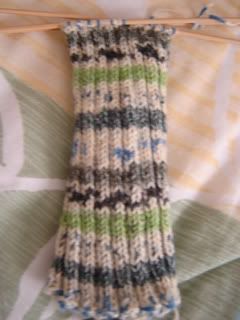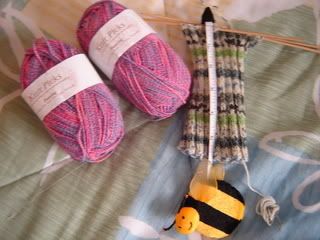 I started a sock! I LOVE the Opal she sent me, its beautiful and I really enjoy knitting it. I thought I would be dismayed by such tiny needles and skinny yarn, but no! No way! It's actually very portable, as I've knit at two family BBQ's, houses, cars, you name it. I really enjoy it. I'm starting to falter as it comes time for the heel/gusset to be worked, but I also haven't had an incredible amount of time to read the book Shelia sent, as well as knit. In fact, I've been bringing knitting with me to work.
I work at a quaint, family owned bagel shop that also serves lunch. We have 'rushes' of customers every so often but for the most part the place is dead. So, I've been knitting at work. I've been knitting squares on the bias for the people in Kansas. My boss thinks it's adorable, and he thinks my knitting is a good luck charm. Every time I bring my knitting with me to work, we're busy, or at least we have a steady stream of customers.
The first square I knit is ugly. There is not other way to describe it other than that. The gauge is obviously messed up.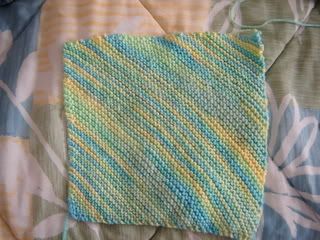 The second square is coming along nicely.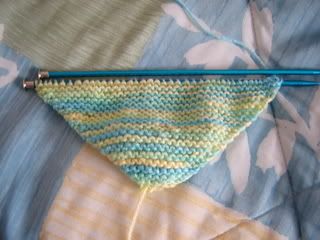 As I left work today, my boss saw me taking my knitting with me and he told me specifically to "bring it back tomorrow, its good luck!" As I haven't had time to knit at work at all.
Oh well. :) In other news, I dropped by the Local University I'll be attending in the Fall and handed in some paper work and my deposit. I'm really excited about this. They have a knitting club, too! People my own age! That may make me even more excited.
The Season is starting here. Benny's, Shoobie's, everybody comes to the Jersey Shore for the weekends/summer. It's a nightmare if you want to drive anywhere, and if you have to deal with these people as they typically have the worst attitudes known to man. Being a Jersey Girl myself, that only means I have a new place to knit: at the beach. That will hopefully be Monday, as long as it doesn't rain :)
Check out my links, I updated them. Please visit
Mike wants to knit
. He's a friend from a previous job who I knit a beer cozy for. He has yet to actually receive said cozy, but it is knit for him. Also, recently updated and another good friend of mine,
EvoLumiere
. EvoLumiere is run by Dan Chosich, a film student at a NJ university. He's got some new films up, as well as old ones.
That is it. I have officially updated on all things knitting related. Goodnight!