However, the beach and knitting do mix. People tend to discredit New Jersey, which makes me sad because yes, sometimes I want to move far, far away and other days I hope I grow old and grey here.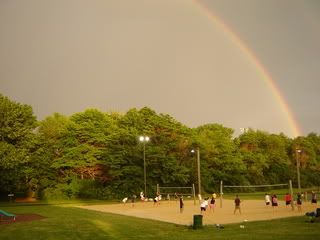 This is the reason why I never want to leave New Jersey.
These are shots from a local park. Boyfriend is playing volleyball in the background. I was really far away because it had just finished raining, poor thing had to play in the rain. I took the pictures because of the lush greenery (which I love and is why I have no problem watching him play) and the beautiful rainbow.
The benny's on the other hand.....

They make me want to run screaming.
I will explain two things: in the summertime two things happen at the beach,
Benny's
invade the beaches, boardwalks, parks, anything that is slightly enjoyable, they come down and ruin. That includes all the nice roads I take to get here and there and back again. It makes driving on the weekends a chore and something only the most daring and patient should try. Don't get me started on Friday and Sunday nights. Garden State Parking Lot (usually its the Parkway)! Anyway, it has taught me to be a very nice, courteous tourist because I've seen what the not-so-nice ones are like.
The second thing I'm going to explain is the 'warming' of the Atlantic. I'm only explaining because I'm not sure if non-Atlantic Ocean goers will know what I'm talking about. Apparently, the Pacific does not do this, although they have better waves. The Gulf Stream makes it way mid July usually, up the East coast and warms the ocean water significantly. It is so pleasant opposed to the colder Atlantic water, the kind that you don't even want to stick your baby toe in.
In other news, I've got a standing beach invitation for Monday's, which is wonderful because the water has warmed up already. I also got quite a bit of sock knitting done, and if you excuse the sheer ugliness of the angles, as the sock is on MY [ugly] foot, I got quite a bit done.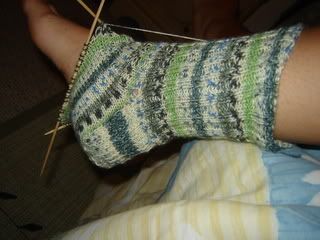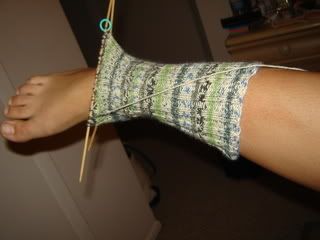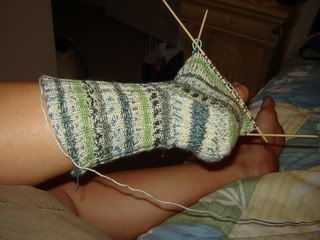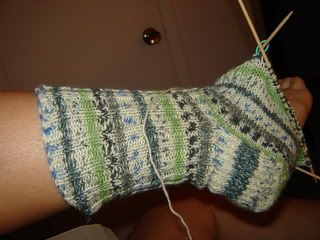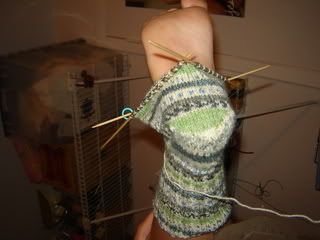 If you look closely you can see a nice sized hole from my lack of skills. I was mildly sad about this, but considered it a good luck charm. If thats the only mistake I made, that's not a bad mistake at all!
At some point during this week I have made the following decision: Finish first sock, but do not start second sock. Why? I have a baby blanket to knit, I purchased the yarn from a store going out of business. It's in the cutest town, I love visiting it and I only recently learned it was even there. I plan to purchase some 50% sock yarn as soon as I get paid. I'm also considering frogging first sock so that when I find a really awesome pattern, I'll have the Opal saved and ready to go. Thoughts?
Back to my projects. I purchased yarn for a bag I wanted to knit from Interweave Knits, I have to finish my first sweater and I have to get the baby blanket done. So my first sock is going to be a lonely, single sock until I get some more pressing projects done. I don't want to claim one is more important over another, but when I say I "have" to get my sweater done, it means I want to wear it this Fall with my sweet blue flower bag. I also want to find a sock book written for DPNs (trying to translate from two circular needles to three/four DPNs is wearing me down & out) so that when all my other projects are done, I can start making myself some awesome, awesome socks. Aside from socks this winter my only other plan is to knit an earflap hat. Since I won the bamboo DPNs from ebay, this is a very do-able project and I'm excited. I need to keep my ears warm, kids.
That about does it. I can't believe its the end of June already. I have approximately ten more weeks of summer vacation, I start Local University on August 27th. This bums me out a great deal, but Local University has their own knitting club, which makes it worth while :)!
Enjoy the weekend:)!