* Originally I had posted this blog on Nov. 12th, but my awesome picture shrinking skills were less than stellar. I took the blog down, recropped the pictures so that they would be smaller, and better viewed on the blog and I will eventually repost this blog. Thanks! Jersey
Yes, it is November of 2007 and I can actually say I suddenly have quite a few FO's (finished objects) and let me tell you, saying that out loud, IS WONDERFUL! A far cry from my mittens in
January,
[and getting the jist of how to post pictures....] I have since completed a pair of mittens, an earflap hat and from Knitty,
Calorimetry
which I just tell my non-knitting friends it's some type of a large headband that I've been wearing to lacrosse.
I should also mention that I've gotten a TON of compliments on my version of Calorimetry. Seriously, a ton. Including lacrosse teammates, my aunt, boyfriend, boyfriend's mom and a stranger or two.
I feel proud. I don't have finished pictures yet, but I will soon. I have to somehow sell taking pictures of me bundled up in mittens/hat and random scarf is fun to my boyfriend. I know. Goodluck.
I used the yarn from my
Jim Thorpe, PA
trip for the mittens.
Until I have the perfect photoshoot, here are some pictures to hold you over. I included my awesome pumpkin carving skills and a series of half finished mitten pictures.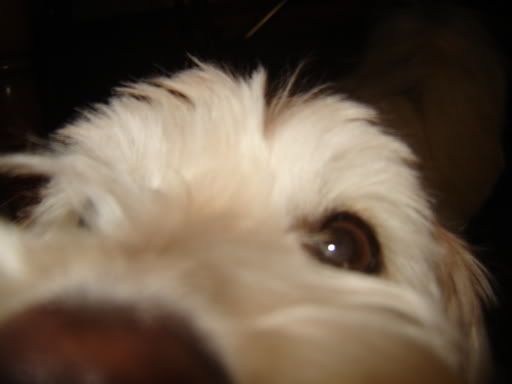 The cutest dog ever.
My awesomely carved pumpkin.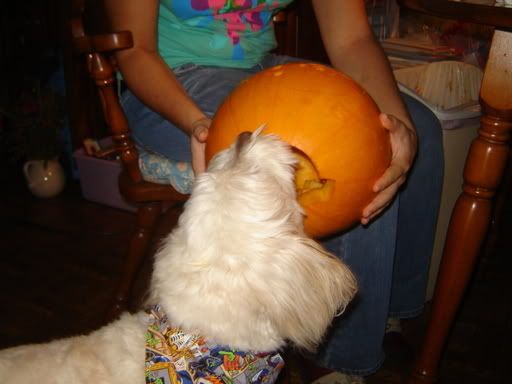 Pumpkins are healthy.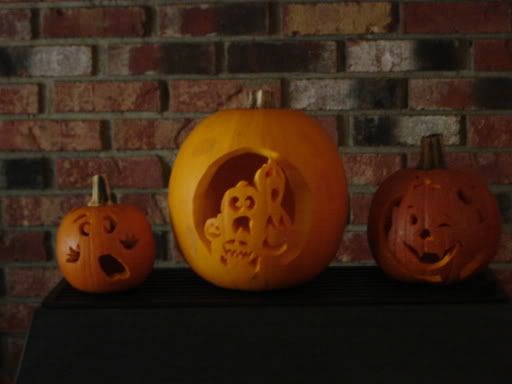 Non-lit shot of everyones carved pumpkins. (L to R: Boyfriend's sister's pumpkin, mine, boyfriend's)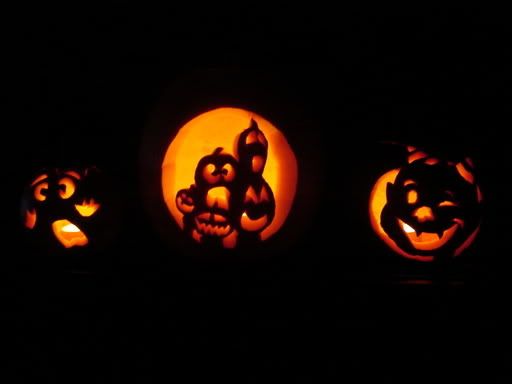 Lit shot of pumpkins. Same order as earlier.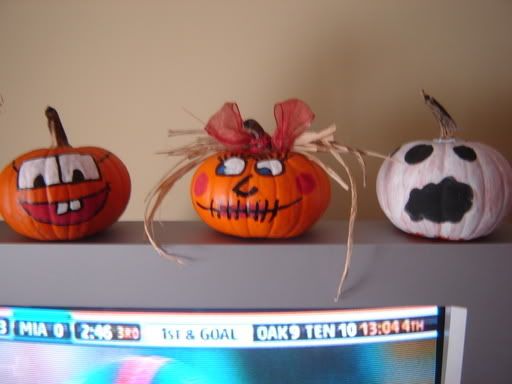 Painted pumpkins watching the Giant's win. (L to R: Boyfriend's, Boyfriend's mom's, Boyfriend's sister)
The following are mitten shots: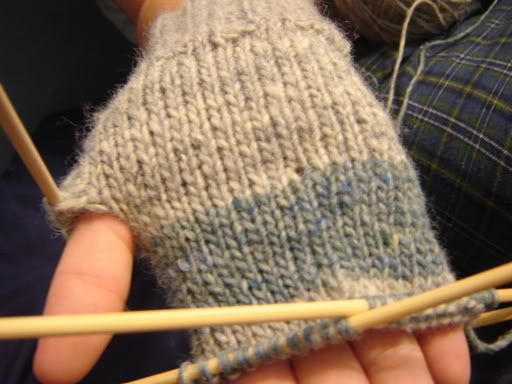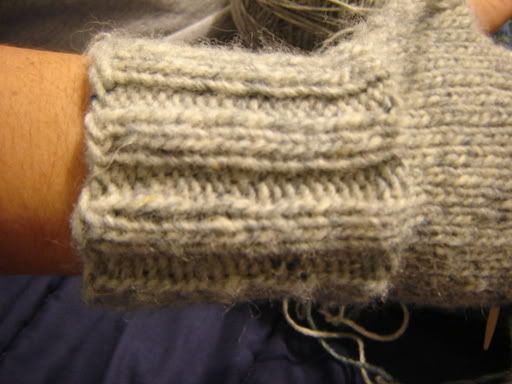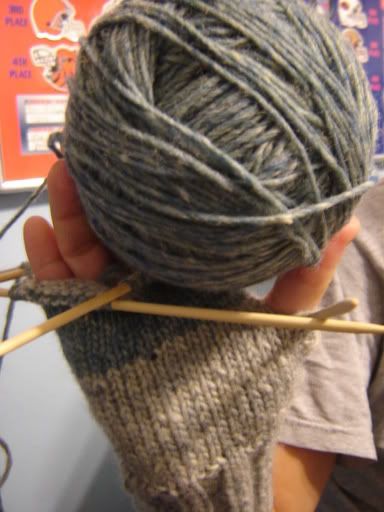 * I originally had a few more mitten shots, but I got so frustrated with Photobucket that I only uploaded a few. I'll have more later.
I have soo much more to share, and with a WONDERFUL four day weekend that is my favorite holiday coming up soon (cough-thanksgiving-cough) I promise to have another update. I do, I promise. I've been a bad knitter/blogger.
Finally, also in italics, I have to also mention I've decided to make up a "What to Buy a Knitter for her Birthday" blog, which should be posted soon, as well as a photoshoot with (hopefully) bunches of pictures of past and present knits. I feel like I woke up to quite a few winter hand knits. Some of them are ugly, some of them are wonderful, but I feel like I am slowly developing quite a collection. Perhaps I'll even have a model .... I'd love to take the pictures myself, but there is only so much a mirror can do. We'll see. Thanks for checking in with me, I'm sorry I haven't been blogging more often. I hope you are all doing well & enjoying the colder weather. I know it took forever for New Jersey to finally get colder. Even today, it was almost 60 degrees at 2pm!

Thanks for checking in! I have plenty of upkeep to do, I joined two different New Jersey related blog rings and I have some general cleaning up of links and dates, etc.

Ok, bed time and I'm really done with my wacky updates. * All updates in italics were done Nov 13th, in case you were wondering... :)

Happy Knitting! - Jersey